Chants D'Auvergne: A Singer's Guide to Auvergnat Pronunciation
A digital version is now available for purchase.
Co-authors Brodovitch and McCann offer a complete reference for the performance of the Chants d'Auvergne, Canteloube's collection of twenty-nine orchestrated folk songs sung in the Auvergnat dialect. Phonetic transcriptions of each song with English word for word and idiomatic translations, revised line-by-line French translations (originally edited by Canteloube for the musical layout),  Pronunciation, Text, and Musical notes.
Chart of Sounds provides a convenient reference to Auvergnat sounds and their spellings. Special Features presents an in-depth discussion of Auvergnat pronunciation.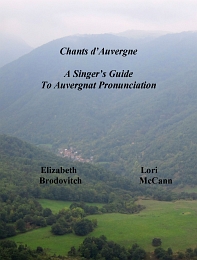 Appendixes include Songs By Category with information on song themes, keys, and tempos as an aid to recital planning, English-French Glossary of the songs' Auvergnat vocabulary and English translation of Canteloube's pronunciation notes.
Version française de ce résumé
©2021 Elizabeth Brodovitch and Lori McCann
All Rights Reserved
181 Pages
For sample text, click on the cover image.
Click here to purchase the manual 
Click here to purchase individual songs 
Contact:
Elizabeth Brodovitch                      Lori McCann